It has been a big week, I am having some time off work and the wife is away for work, so I have put in quite a lot of shed time.
As mentioned before, the little YB100 is all back together with the exception of the LH switch block / clutch lever assy ( I can't find a second hand one so will probably buy a pattern part out of Asia), and sorting out the seat. I don't know what I am going to do with the seat, to get it restored properly will cost more than the bike has.
Unfortunately, it looks better in the picture than in real life.
I pulled the recalcitrant SL125 out and I fitted an brand new ignition coil, which did fix the problem. I then fitted a new condenser (no change) and set of points, which also did solve the problem (won't rev over 2500rpm), so it has been put back into the naughty corner to think about what it is doing.
I have been down to Adelaide and got the RV frame and cycle part back from the powdercoater and spent quite some time cleaning threads and pivot points.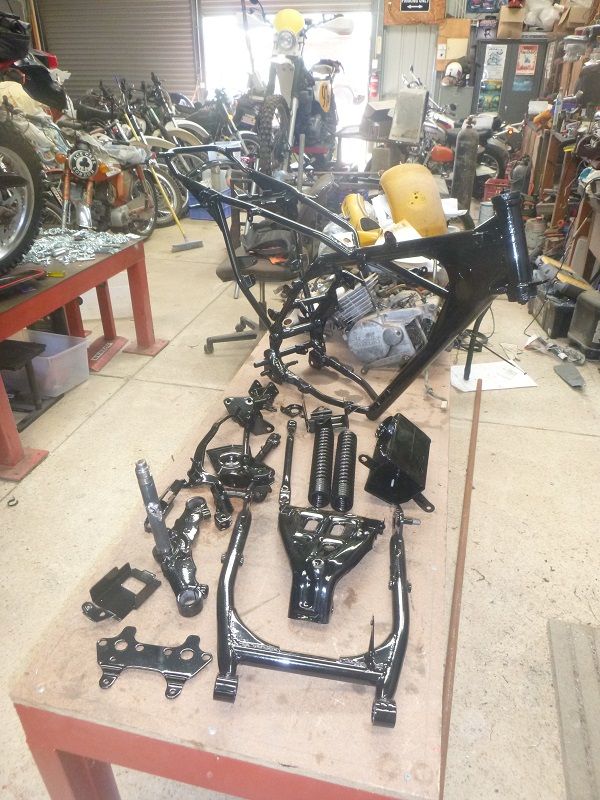 (Yes, that is another XT500 project on the bench in the background. There will be some posts about this project in the future.)
I also picked up all the parts that I took to the electroplater to be zinc plated while in Adelaide and spend a couple of hours sorting out everything. The plate does batch work with a minimum cost of $100 ( + GST), so I throw in parts for a heap of bike (SR500, XT500, RV125 and SL125 bits this batch). Makes for a lot of fun sorting it all back out again.
The big mover of the week has been the XT250. I finally got the engine back together (new std piston and rings, and a light valve grind) and refitted into the frame. I took it out for its first shake down, run doing about 3km up and down the "extended" driveway (an advantage of living on a shitty dead end dirt road in the country, it make for a good test track and I have never seen the boys in blue come anywhere near it!).
After allowing time for it to cool down I rechecked the valve clearances, and was able to get the clearances of 3 of the valves with in tolerance using the shims in the engine and two spares that I had, but will need to exchange or buy another shim to get the last valve in spec. although it is only just (0.015mm) to loose. I will have to try and find the correct Yamaha special tool for holding the shim buckets down, I managed to do it today with a Honda special tool, but it was a bit fiddly. Oh how I now regret selling my set of shims (over 120 of them) to the mate back in the 90's. Some people think that shim adjust valves are a pain, but I think they are far better than screw tappets, although I am glad I haven't bought the dream Honda CBX1000, as I did a few services on them back in the early 1980's and having to sort out the clearances for 24 valves is a bit of a pain. Although the 16 valves in a CB900 wouldn't be too bad would it Stew?
I had forgotten what sweet little bikes these DOHC XT250's are to ride, I think I am going to really enjoy riding it in the reliability trial series next year. I just need to recover the seat (new replica cover coming from Thailand) and sort out a few electrical items before getting registered. By time I register it, it will have still cost me under $1000 all up (remember it was given to me for nix), which makes it a whole lot more fun, as I don't have to worry about losing too money on it.
I have also had the race team stickers made, which is the most important think!